PROFILE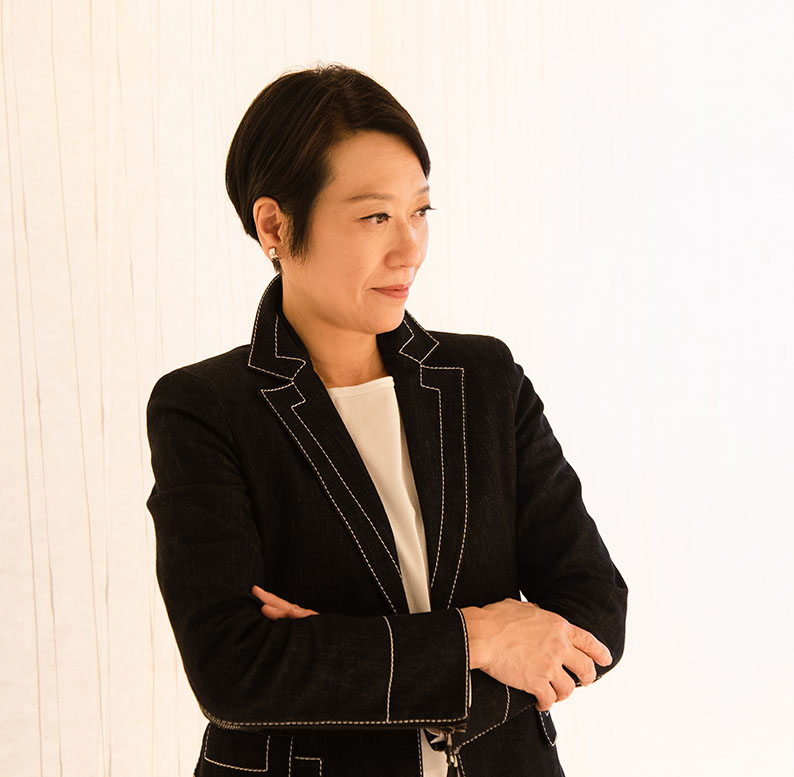 "That's not real washi. That's not traditional." Or so I've been chided by washi makers since I was twenty-four, when I founded this company in an effort to explore new methods of creating washi. Those words inspired me as I left my job as a banker for an office position with a washi maker, then independently studied to build my future in handmade washi, and finally started to see my creations reach the world - at every step, questioning the nature of tradition as I carefully considered the right path forward.

Thinking back to the origins prior to 1300 years ago, washi must have initially been considered quite innovative. Those revolutionary techniques, over decades and centuries, were helped to evolve as they passed down through the hands of countless artisans until it arrived in the present day as "tradition." That is, innovation and tradition are not opposing forces; I came to the crucial realization that tradition itself is the evolutionary result of hundreds of years of working with innovative techniques.

At that point, I thought of equipping craftsmen of Echizen washi, already possessing a vast trove of traditional techniques, with modern appurtenances and technology, working toward linking tradition with the future. We then added our own original technology to the mix in an independent Kyoto atelier setting, thus cultivating our revolutionary approach as the tradition of the future. We saw these as staking out our two directions. From the perspective of traditional production, even if the goals of directing oneself toward becoming the tradition of the future or toward the revolutionization of tradition are not entirely met, it nevertheless represents an advancement.

Through the over thirty years that I've been on this quest for beauty, I have come to appreciate all the more the importance of striving for technological innovation. As technology and expressive methods have broken free from rigid concepts to explore new paths, it is precisely when we grapple with impossibilities and impasses that tradition extends into the future. My desire is to continue creating washi that will meet the demands of the era while transcending time and resonating in the heart.
HORIKI Eriko
1962

Born in Kyoto

1980

Joined Sumitomo Bank

1984

Transferred to Shiokuin Co., Ltd. (office work/accounting)

1986

Shiokuin Co., Ltd. ceases operations

1987

Established SHIMUS

1988

Opened SHIMUS Showroom in the Odasho Building

2000

Established Eriko Horiki & Associates Co., Ltd.
Opened Uzumasa Atelier and Uzumasa Showroom

2014

Opened Oike Showroom in the Yoshichu Building
WORK EXPERIENCE
2003 - 2004

Visiting Professor, Kyoto Koka Women's University

2006 - 2008

Visiting Professor, Kyoto Seika University

2009 - 2018

Visiting Professor, Osaka Institute of Technology

2010 -

Director, ICC Kyoto Public Interest Incorporated Foundation

2013 -

Visiting Professor, Kyoto Arts and Crafts University

2013 - 2020

Counselor, Kyoto Prefecture

2015 - 2017

Visiting Professor, Kyoto Saga University of Arts
SOCIAL ACTIVITIES / JUDGING
1999 -

Jury Member, Mino Washi Akari Art Contest and Exhibition

2007 - 2019

Jury Member, Culture Venture Competition in Kyoto

2008 - 2022

Jury Member, Creative Lantern Design Competition in KYOTO HANATOURO

2012 -

Jury Member, Kyoto Women's Entrepreneur Awards

2013 - 2015

Jury Member, Kyoto Architecture Awards

2014 - 2017

Jury Member, Kyoto Landscape Awards

2015

Jury Member, Terrada Art Awards

2121-

Jury Member, Japan Traditional Craft Revitalization Contests
SOCIAL ACTIVITIES / COMMITTEE MEMBERSHIPS
2006 -

Member, Cultural Power Creation Roundtable (Cultural Arts Office, Kyoto Prefectural Labor Department)

2009 -

Advisor, Committee for Promoting Classics Day (Kyoto Convention & Visitors Bureau)

2017 - 2018

Member, Future Culture Administration Review Conference (Culture and Art Promotion Division, Kyoto Prefectural Department of Culture and Sports)
TEXTBOOKS AND TEACHING MATERIALS
- Genius English Course II Revised pp. 136-149 (Taishukan Publishing Co., Ltd, 2008)
- Global View Earth Village: Japanese Language Proficiency Test Level 1, 2 and 3 p. 54, 55
(Chikyumura Publishing, 2008)
- Art 2 and 3 (volume 1) p. 23 (Nihon Bunkyou Shuppan Co., Ltd., 2012)
- Art 2 and 3 (volume 2) p. 29 (Mitsumura Tosho Publishing Co., Ltd., 2012)
- Japanese Techniques to Teach Children 2: Washi Paper p. 29 (Bunkeido Co., Ltd., 2015)
- Art Materials: Kyoto Beauty p. 5 (Shugakusha Co., Ltd., 2018)