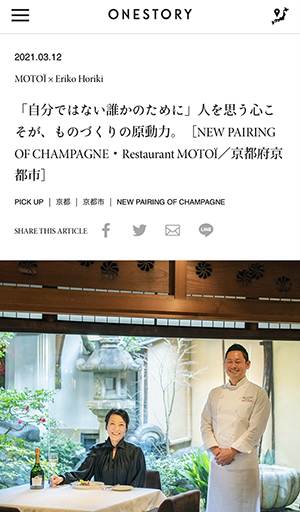 ONESTORY Online Journal Article New Pairing of Champagne: Restaurant MOTOI× Eriko Horiki
This is the top cuvée of Taittinger's Comtes de Champagne Blanc de Blancs 2008, for which Horiki designed the packaging using washi. For this feature, Horiki experienced pairings of champagne with dishes prepared by top chefs and talked with the chefs about these new pairings.
The last installment includes pairings with dishes by Motoi Maeda of Restaurant MOTOÏ.
ONESTORY website: http://www.onestory-media.jp/post/?id=3891
Taittinger official website: http://www.sapporobeer.jp/wine/taittinger/meets/no16.html